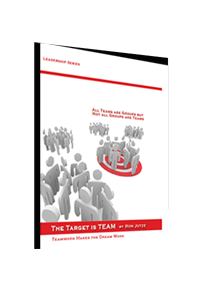 The Target Is TEAM
In a local church, there is a major difference between ASSEMBLING with each other and CONNECTING with each other.  The power of God is released in the CONNECTION. In this 4 CD series, Ron Jutze speaks to LEADERS about Developing a Ministry TEAM to best SERVE their congregation.
A MUST for EVERY worker and LEADER in the CHURCH!
TEAMWORK MAKES THE DREAM WORK!
PLUS! In this package, receive a BONUS CD with all of Ron's notes or syllabus for these 4 CD teachings.